DiZ searches Marketline Advantage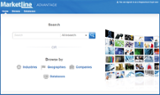 As from now you can search the database Marketline Advantage with the Zuyd Library search engine DiZ.
All users may search Marketline metadata in EDS, but only Zuyd students and staff can access the full-text for all records on the MarketLine Advantage platform.
MarketLine Advantage (formerly Datamonitor 360) is a collection of industry, company and country information. The reports use standardized data for easy market comparison, market size, segmentation, share and distribution data for 150 consumer products in 55 countries. The unique industry analysis framework is based on Porter's Five Forces and also includes expert future forecast analysis. MarketLine also provides in-depth reports on over 50,000 public and private companies. As for country information, the reports contain over five million data points across 215 countries using standard analysis framework - PESTLE. Country reports contain maco-economic, socio-economic and demographic data points using standardized data to allow for easy country comparison. Finally, there are also News, Comment and Analysis feeds allowing users to stay current on business issues.
Posted by: Pascal Nypels
Last modified on: 26-01-2017