Zuyd Library News
15-09-2017
New anatomy database: Primal Pictures - Anatomy.tv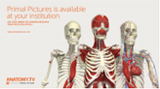 There is a new Zuyd Library licence for:
Primal Pictures - Anatomy.tv

What is: Primal Pictures - Anatomy.tv?
PP - Anatomy.tv is an online 3D human anatomy educational resource.
Access?
Through the e-source section on our website or via the Health Care Databases LibGuide.
It is also possible to consult this database off campus with EZproxy
Need help?
Watch the online tutorial or send your questions to librarian Annette Graat
Read more
04-09-2017
What are LibGuides?
LibGuides are online library guides, created by the information professionals of Zuyd Library, to "guide" Zuyd students and staff through the resources and services of Zuyd Library.
A LibGuide offers customized information and focuses on a particular course or topic.
They will also be used to explain a database (eg PubMed), a research tool (eg Endnote) and to support the information skills of students and teachers.
Read more